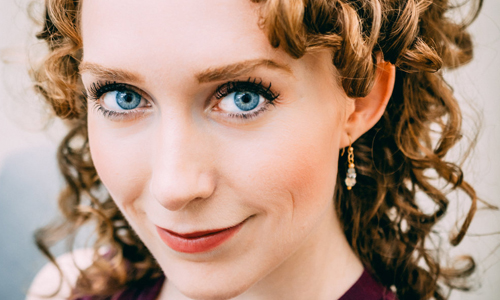 Maeve Palmer |
Soprano
Described in review as a "virtuoso singer" (Whole Note), and a "triple-threat [and] talented coloratura" (Opera Canada) Maeve Palmer is an alumna of the University of Toronto Opera School (U of T), the Rebanks Family Fellowship and International Performance Residency Program, and the Orpheus Choir of Toronto Sidgwick Scholar Program. She is the second prize winner of the 2017 Eckhardt-Gramatté National Music Competition and is the 2021 recipient of the prestigious Jim & Charlotte Norcop Prize in Song. Maeve is currently pursuing her Doctorate of Music at U of T where she is studying with Prof. Lorna MacDonald.
Recent concert performances include La Fabbrica Illuminata (Luigi Nono) in Koerner Hall with New Music Concerts, and Malfunctionlieder (Nicole Lizée) with Continuum Contemporary Music, the Canadian premiere of Samuel Andreyev's chamber cantata Iridescent Notation (New Music Concerts), and Honegger's King David (Chorus Niagara). Recent operatic roles include Susanna (Le Nozze di Figaro), Mary Crawford in the Canadian Premiere of Jonathan Dove's Mansfield Park, Zerbinetta (Ariadne auf Naxos), and Sandrina, and Serpetta (La Finta Giardiniera).
Maeve has performed in concert with New Music Concerts, Continuum Contemporary Music, Opera Atelier, Tapestry Opera, and Off-Centre Music Salon among other companies. Her voice is featured in the Hollywood film The Space Between Us, and the TV series Aftermath.
Maeve is delighted to return to Off-Centre Music Salon!