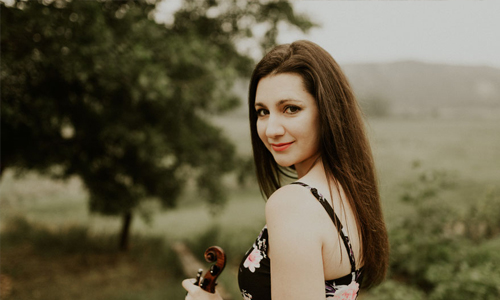 Sheila Jaffé |
Violin
Sheila Jaffé was born into a family of musicians and was fascinated by classical music from a young age. Born in Montreal and raised in South Florida, she returned to her native Quebec at the age of thirteen to live and study with her second cousin Catherine Dallaire, concertmaster of the Orchestre Symphonique de Québec and professor of violin at the Conservatoire de Musique de Québec. After completing high school as part of the arts intensive program at l'École Secondaire Pierre-Laporte in Montreal, Sheila completed her Bachelor's degree in violin performance at the Université de Montréal.
Over the course of her years in Montreal, it became clear that chamber music and orchestral playing were at the core of her musical passions. She co-founded the Alaya String Quartet, performed in numerous chamber music concerts in the city, and kept herself impossibly busy with every kind of ensemble she could put together. In the summers, she participated in orchestral, chamber music and masterclass festivals such as Schleswig-Holstein Orchester, Domaine Forget, International Musicians Seminar and Open Chamber Music at Prussia Cove, Orford Arts Centre, Aurora Music in Sweden, and several others. Sheila continued her studies in Berlin, Germany with a Master's program at the Hanns Eisler Hochschüle für Musik, during which she also was accepted into the Deutsche Symphonie-Orchester Akademie for a one-year position. During this time she also co-founded the Alondra String Quartet, who were invited to the International Musicians Seminar Prussia Cove as well as the Toronto Summer Music festival. The members of this quartet are now in leading orchestras around the world. In 2013, at the Rosebud Chamber Music Festival in Alberta, Canada, she co-founded the Rosebud String Quartet (RSQ), with whom she currently performs regularly. Sheila is also the violinist and violist of the Array Ensemble, specializing in new music. In 2015, Sheila joined the Canadian Opera Company as a violist while continuing to nurture her love of chamber music on the violin with her string quartet as well as other chamber ensembles and various solo performances. She has also recently been appointed as principal viola of the National Ballet of Canada Orchestra. Her first album, featuring works by Franck, Elgar and Britten in collaboration with Welsh pianist Huw Watkins, is due to come out in 2022.
Sheila Jaffé plays on a Francesco Gobetti (1710-15) violin and Raymond Schryer (2001) viola on generous loan from Canimex.